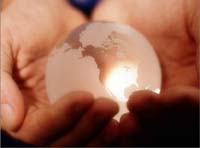 What is Global Learn Day?
Global Learn Day is a breathtaking 24-hour, non-stop online collaborative forum -- a worldwide celebration of learning!
Launched in 1996 by the Benjamin Franklin Institute of Global Education and co-organized by Global SchoolNet, this annual event features global learning champions from all corners of the globe. It opens in the South Pacific - where the planet begins the new day, and then travels west through each time zone -- culminating in Hawaii and Guam. It's purpose is to showcase those doing exceptional work in the knowledge arena.
Learn how you can participate!
Ambassador Marc Grossman
US Under Secretary Political Affairs
Introduces Global Learn Day VII
Learn more about State Department sponsored programs including, "It's Academic," Partnerships for Learning, Fullbright Exchange, Doors to Diplomacy Competition, and more...